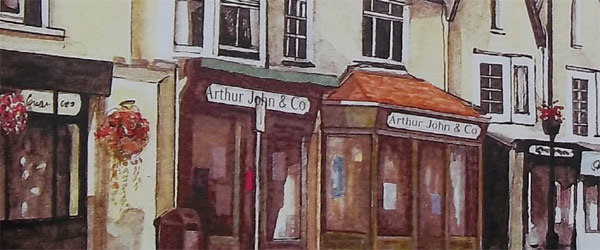 Home and Interiors
Interior designers will be amazed by the choice of innovative, quirky, stylish and practical objects for adding style and personality to any room. A wide range of home furnishings, antiques, kitchen utensils, floral arrangements, original artwork and prints are just waiting for someone with imagination and style awareness to realise their full potential. Keep in touch with new additions as soon as they arrive by following the Cowbridge Fashion tweets.
Header image: Detail from an illustration by Hannah Elliott
The Bay Tree
The Baytree
35 High Street
Floral arrangements.
No 39
No 39
39 High Street
Interiors.
Arthur John
Arthur John
43 High Street
Kitchen utensils, household items and general hardware.
Adam Jones
Adam Jones
The Old Woolbarn, Verity's Court.
(Access through lane between Arthur John's shops)
Furniture restoration.
Gail Armytage
Gail Armytage
51 High Street
Florist.
Sorrento
Sorrento
67 High Street (Above estate agents)
Household goods and furnishings.
The Shop
The Shop
50 High Street
Household objects and furnishings.
Happy Days
Happy Days
Church Road
(Behind Wellington Inn)
Vintage home store and artisan market.
Ambience Interiors
Ambience Interiors
10a High Street
Interior Designers.
Capel Jones
Capel Jones
The Limes
Antiques and vintage items.
Cowbridge Flooring
Cowbridge Flooring
85 Eastgate
Flooring specialists.
Havard & Havard
Havard & Havard
59 Eastgate
Antiques.
Cowbridge Antiques
Cowbridge Antiques
73 Eastgate
Antiques.
Kingfisher Gallery
Kingfisher Gallery
Willow Walk
(Located over the bridge at the end of Penny Lane)
Paintings and prints.
GW of St Clears
GW of St Clears
81 High Street
Home interior showroom and consultation.