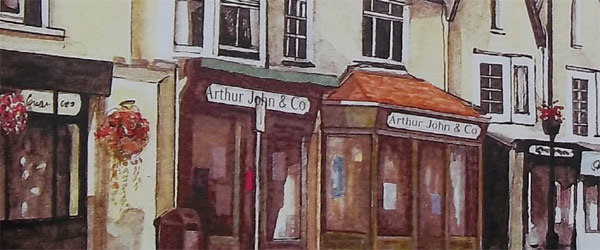 Sunday shopping in Cowbridge
A number of shops welcome visitors on a Sunday in Cowbridge and these are listed below. Easier parking and a choice of cafes and restaurants provide visitors with a very pleasant day out. During the festive season many more open for the three weeks leading up to Christmas.
Header image: Detail from an illustration by Hannah Elliott
Ushi's
Ushi's
44 High Street
Ladies European fashion and accessories.
Arthur John
Arthur John
47 High Street
Ladies and gents country wear.
Main dealer for Barbour.
Goose Island
Goose Island
50a High Street
Clothing and accessories.
Fat Face
Fat Face
Bird's Lane
Fashion.
L'Armoire
L'Armoire
64a Eastgate
Ladies fashion and accessories.
Labels inc: Liberty of London, American Vintage, Isharya.
Pebble
Pebble
5 Town Hall Square
Ladies fashion clothes and accessories.
Labels inc: Diesel, Fornarina, Old Molly, French Connection.
The Old Institute
The Old Institute
3 Town Hall Square
Shoes and accessories.
Coyoti
Coyoti
North Road
Clothes and accessories for Ski and Snowboard.
Labels inc: Rip Curl, Oakley, Atomic, Merrell, Flow.
Rohan
Rohan
Birds Lane
Travel and outdoor clothing.
No 39
No 39
39 High Street
Interiors.
The Shop
The Shop
50 High Street
Household objects and furnishings.
Happy Days
Happy Days
Church Road
(Behind Wellington Inn)
Vintage home store and artisan market.
Birds in a Barn
Birds in a Barn
Verity's Court.
(Access through lane between Arthur John's shops)
Pocketful of Presents
Pocketful of Presents
Town Hall Square
Located behind Town Hall
Gifts
W G Davies
W G Davies
38 High Street
Newsagent
The Bay Tree
The Baytree
35 High Street
Floral arrangements.
W H Smith
W H Smith
20 High Street
Books and stationery.
The co-operative
The co-operative
57 High Street
Convenience store.
Tesco
Tesco Express
44 High Street
Convenience store.
Waitrose
Waitrose
Bird's Lane
Convenience store.
Filco
Filco
2 High Street
Convenience store