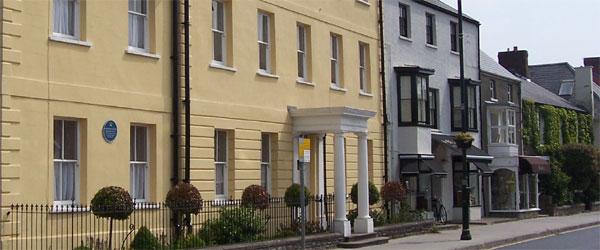 Where to eat lunch in Cowbridge
Here is a list of eating places in Cowbridge serving lunch for shoppers, friends and business acquaintances. Select name for more information and location.
Vale of Glamorgan Inn
The Vale of Glamorgan Inn
53 High Street
Traditional inn with fine selection of real ales.
Bear Hotel
The Bear Hotel
63 High Street
Lunches.
Oscars
Oscars
65 High Street
Lunches
Huddarts
Huddarts
69 High Street
White tablecloth and silverware lunches.
Balti House
Balti House
2 Eagle Store, Westgate
Lunches. Indian cuisine.
The Market Place
The Market Place
66 High Street
Lunches.
Quarter Penny Cafe
Quarter Penny Cafe
(Formerly Farthings)
54 High Street
Lunches.
Bar 44
Bar 44
44c High Street
Tapas throughout the day.
Duke of Wellington
Duke of Wellington
High Street
The pub has a fresh but traditional feel with a regularly changing menu as well as an excellent range of cask ales. Five real ales always available! Choose from Brains Bitter, Rev James, SA Gold plus two monthly changing guests. A good range of wines carefully selected to offer great and reliable quality at reasonable prices. Something for everyone and the perfect place to enjoy lunch with the family, relax over a coffee or just catch up with a friend over a pint.
Arboreal
Arboreal
68 Eastgate
01446 775093
A unique friendly boutique cafe kitchen bar experience with a choice of the finest wines and distinctive foods in a warm and friendly atmosphere.
Menu
Tue – Sat: 10.00 am – 11.00 pm
Sun: 10.00 am – 16.00 pm
Shampan
Shampan
70 Eastgate
Lunches. Indian cuisine.
Thai Elephant
Thai Elephant
1 Town Hall Square
Lunches. Thai cuisine.
Aroma
Aroma Cafe
Birds Lane (Opposite Waitrose)
Family run cafe.