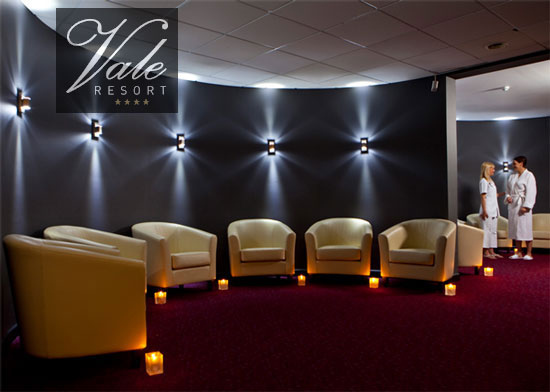 Pre-treatment waiting lounge
Not having been to the Vale Resort Spa for some time I wasn't sure of what was going to greet me.
The pre-treatment introduction and tour confirmed that things had certainly moved on over the years with a sequence of relaxation rooms and accompanying background music creating an ambience to soothe the most savage breast. The reception was more spacious, incorporating a relaxing café area to enjoy a coffee and light lunch.
Time zipped by while Kelly delivered my full Swedish Body massage in a most professional and relaxing manner. She told me what oil she was using but I was so relaxed, I completely forgot! To complement the experience, other facilities such as the pool and sauna were also available but unfortunately I did not have the time to take full advantage of them.
If you need to escape from the world and indulge yourself for a few hours, I could think of no better place. As for a gift for someone special, I wouldn't hesitate to recommend this retreat, and if the voucher were to include a complimentary beverage, then this pleasant experience would certainly be complete.
You can always pay a visit beforehand to view the facilities and in the meantime find full details at the Vale Hotel Spa website.
Jan Edwards
Editor
Cowbridge Fashion